Jerusalem at Watermill, review: A magnificent return for Jez Butterworth's Falstaffian anti-hero
"And did those feet in ancient time/ Walk upon England's mountains green…" The first words of Jez Butterworth's Jerusalem, set in the fictional town of Flintock, Wiltshire on the day of its annual fair, borrow audaciously from Blake.
Watching the play's first professional revival since it stormed from the Royal Court in 2009 to the West End a year later (and then to Broadway), more recent foot-steps come to mind: those of that acting giant Mark Rylance, who created the role of Johnny 'Rooster' Byron. So winningly did Rylance bring this Falstaffian anti-hero to reprobate life that he attained the status of a theatrical messiah.
The fittingly bucolic Watermill has good cause to crow as the first regional theatre to get its mitts on this modern classic but how do you follow that Olivier-winning turn? Even in such an intimate space, the pressure is on.
Rylance excelled at an otherworldly charm; Britton's approach is more tramp-next-door – chain-smoking, booze-raddled – mainly downbeat then madly growling. Just as Lisa Blair's revival argues the case for the play having renewed topicality as house-building (and rural drug-dealing) sweeps the nation, so Britton forces you to see the character afresh as a figure of inspiriting symbolic force and real-life poignancy: a yarn-spinning misfit who invites disdain (even disgust) and yet also covert, needy admiration from those who gather round him – most touchingly, his estranged six-year-old son.
The superb ensemble, meanwhile, make the bravura dialogue sound as revitalising as ever and you're going to have to fight your way in to get a seat. Let's hope the play now stays in the repertoire on a more regular basis. Lush.
From The Guardian: https://www.theguardian.com/stage/2018/jun/26/jerusalem-review-jez-butterworth-rooster-byron-watermill-newbury
Jerusalem review – Jez Butterworth's Rooster Byron is back for Brexit Britain
Watermill theatre, Newbury
Rave music thumps as Jasper Britton plays the refusenik in an intimate revival of the drama about Albion's dark heart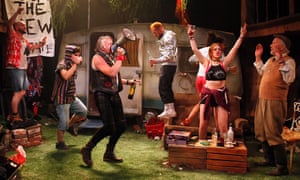 It takes courage to revive a play that was deemed by so many to be the best British stage production of modern times. And even more courage for a lead actor to risk comparison with the original star, Mark Rylance, who won an Olivier and a Tony for his role in it. So the Watermill shows daring in its staging of Jerusalem, which had a sensational run at the Royal Court in 2009 followed by the West End, twice, as well as Broadway.
If Jez Butterworth's play exposes the grim realities of rural life and pierces the idealised vision of an Albion idyll, director Lisa Blair here flags up its relevance to Brexit Britain. This is the troubled English countryside many did not acknowledge before the referendum, variously neglected or oppressed by bureaucracy, and in which Old England's feudal landlords have been replaced by council officials driving non-taxpayer and refusenik Johnny "Rooster" Byron off the land.
Teenagers from the Wiltshire estates who tramp up to the woods for Rooster's all-night raves and "whizz" are the "Friends, outcasts and leeches," of his Mark Antony-like address. They want to haul up the borders: "I leave Wiltshire, my ears pop", says one who never wants to leave home.
The Watermill's rural Berkshire location is certainly a better fit than a city for a play that engages with the notion of a lost pastoral. The set is dominated by a caravan and a beaten-up sofa with bottles of booze, much like the original. But the intimacy of the space makes the woodland more vivid and darkly oppressive, bringing an anarchic element to the staging: the audience is sprayed with water, cigarette smoke wafts into the stalls, the thump of rave music shakes the ground beneath our feet.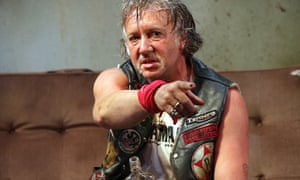 Jasper Britton does not – thankfully – channel Rylance but goes his own way. His Rooster is a slurring, red-faced, black-fingernailed Hell's Angel of sorts in leathers. In moments of self-mythologising, he sounds like a pub raconteur rather than the mesmeriser that Rylance became when speaking of coming back from the dead, of talking to giants, of having blood that could never rot in the earth, and this has its own charms.
Britton inhabits his dramatic monologues with greater intensity as he goes along. The comedy carries a similar momentum, waning at times, brilliant in others. Peter Caulfield plays Ginger with fantastic physical comedy while Richard Evans's absent-minded Professor delivers the poetic whimsy in his lines like a Shakespearean fool.
There are bursts of real spectacle and flared intensity – the powerful opening scene with Phaedra, a New-Age raver, singing the lines of the hymn Jerusalem, which segues into the sounds of a rave when she gets to the "dark Satanic mills"; and Rooster's bloodied curse on the land in the final scene, though there might have been more of these high-fever moments.
As it is, the play – more than three hours long and fairly static – sometimes feels its length. Yet its message – and delivery for the most part – is made new. Just as Butterworth's The Ferryman plays with a mystical notion of Ireland, so Jerusalem reveals a yearning for a bygone Britain that never existed – a once magnificent "Holy Land" of fairies, Arthurian legends and Stonehenge giants. The reminder could not be more relevant.
From What's on Stage: https://www.whatsonstage.com/newbury-theatre/reviews/jerusalem-watermill-jez-butterworth_46945.html
Review: Jerusalem (Watermill)
The Watermill theatre in Newbury revives Jez Butterworth's superb play with Jasper Britton in the lead role of Rooster Byron
I've said it here before: Jez Butterworth's Jerusalem, first seen at the Royal Court in 2009, is a contender for the best play of the 21st century. But we haven't been able to test that proposition because after that blistering first production, centred around a performance of genius from Mark Rylance, we haven't seen it again.
So it is a brilliant stroke for the tiny Watermill Theatre to revive it. And it is even more thrilling that Lisa Blair's new production, led by Jasper Britton as Johnny 'Rooster' Byron, modern lord of misrule, is just as devastating, pertinent and incandescently funny as you could hope. Its themes of a lost England, of poverty and disaffection, of ancient woodlands under threat from the need for new homes, of individualism versus the need to conform, fit perfectly into this place, where the setting is idyllic but the nearby high street is scarred by empty shops.
In the years since its premiere, the play's themes have become ever more relevant. And you can see exactly why it has become an A-level text. Set on St George's Day, as a small town in Wiltshire get ready to celebrate an ancient fair with modern rites, its strength lies in the way that it combines metaphorical heft with naturalistic vigour. The young kids gathering like a magnet round Rooster's battered caravan, lured by drugs, booze and the warmth of their shared conversations, are entirely believable.
So is Rooster himself, at war with Avon and Kennett council, who want to evict him to build new homes. He is both the man you'd avoid if you met him down the pub, drunk and disgusting, but also the one you'd irresistibly want to talk to, as he weaves his tall tales of being kidnapped by traffic wardens or being born with a bullet in his teeth. The combination of the everyday and the fantastical is built in the structures of Butterworth's dense and deftly timed sentences: "I once met a giant." Pause. "Just off the A14". But the mythic content of those stories, the sense that Byron belongs to an older, more powerful world than the alienating one of today, underpins the entire play. Its resonating questions about the nature of society and national identity are huge: "What is an English forest for?"
Britton's terrific Byron is more desperate and less mercurial than Rylance. He gives the sense, in his slow movements, of almost being rooted to the earth. "I am heavy stone, me. You pick me up, you break my spine." When he pulls himself up to his considerable full height and claims possession of Rooster's wood, you see a proud man who is not to be meddled with. But the melancholy lurks behind his eyes. So too does a sense of danger, of ingrained outsiderness – "I am no-one's friend" – though this is finely balanced with what feels like real concern for the youngsters who nestle around him, and their right to grow up in freedom.
Blair's direction impresses for the subtleties she has found in those relationships. With a setting by Frankie Bradshaw that faithfully recreates the clutter around the caravan and winds May ribbons around the pillars of the theatre itself, she brings an element of tenderness into Byron's relationships with those around him. This is particularly true in the quiet scene with Dawn, mother of his son Markey, sensitively played by Natalie Walter: she looks at Byron with love and compassion as well as with despair. It's a beautifully judged reaction that catches the balance of the play.
The entire cast (doubling a few parts) find the same humane clarity. Each character is carefully delineated, not falling into caricature, from Robert Fitch's Wesley, dressed in embarrassing morris dancing gear and mourning the May queens past, to Richard Evans' professor burbling about the meaning of May Day, and Nenda Neurer's Phaedra, lost in the woods, fleeing an abusive stepfather, singing Blake's anthem of old England. Sam Swann is quietly wistful as Lee, escaping to Australia but worried about what he will leave behind, and Santino Smith brings total belief to his part as Davey, the abattoir worker so tied to his home town that "If I leave Wiltshire my ears pop." As Ginger, the ultimate misfit, Peter Caulfield has a permanent whiff of dissatisfaction; his drugged-up confusion is a wonderful comic highlight.
It's just all so rich, so full of energy and passion. Three hours simply fly by. This vision of England, at once fantastical and real, funny and tragic, wild and profound is a modern classic. It rewards repeated viewing and will – we now absolutely know – retain its towering status in repeated interpretations. Congratulations to the Watermill for beginning the process.
From The Daily Mail http://www.dailymail.co.uk/home/event/article-5895923/Jerusalem-review-Brexit-amplified-spirit-rebellion.html
Jasper Britton, thumping a drum and invoking the lost gods of a mythical England, is tremendous stepping into Mark Rylance's 'Rooster' shoes
Jerusalem
The Watermill Theatre, Berkshire                             
The actor Mark Rylance utterly triumphed in the role of Johnny 'Rooster' Byron in Jez Butterworth's 2009 play set in Wiltshire on St George's Day. Jasper Britton now fills Rylance's boots in the lead in this rich, sweary, rampaging play that takes a leak on Countryfile's bushy-tailed vision of rural life.
I can't think of an actor better suited than Jasper Britton to revive the role of Byron, a charismatic reprobate who lives in a manky caravan (this tiny rural theatre is the perfect venue) and entertains the local kids with drugs, booze and tall tales.
He's threatened by a local thug, deplored by his ex and hounded by the local council. Rooster's breakfast? Milk, raw egg, slug of vodka, dose of speed, all downed in one.
Britton's Rooster (above) – looking like a roadie for Motörhead – is an earthy old badger with an epic gift for blarney
The cast includes a cocaine-snorting publican dressed as a morris man, an abattoir worker, Rooster's still mesmerised ex-girlfriend and assorted kids all wanting a wrap of whizz (speed)
This is a play in which the locals think 'abroad' starts at Chippenham. If anything, Brexit has amplified its spirit of rebellion against high-vis-vest bossiness, tick-box conformity and progress.
Britton's Rooster – looking like a roadie for Motörhead – is an earthy old badger with an epic gift for blarney. He tells how he once met a giant on the A14. His sidekick Ginger (Peter Caulfield, excellent) hilariously torpedoes the tale by wondering how the story was missed by BBC Points West.
The cast includes a cocaine-snorting publican dressed as a morris man, an abattoir worker, Rooster's still mesmerised ex-girlfriend and assorted kids all wanting a wrap of whizz (speed). Yet Rooster is not just a threat – he shelters, movingly, a young May queen from her abusive stepfather.
If director Lisa Blair's cast is a bit uneven, the great thing is that the production does justice to writing that's pin-drop good. And Jasper Britton, thumping a drum at the end and invoking the lost gods of a mythical England, is just tremendous.